The Future of Electronic Publishing: "Write, Create, Innovate"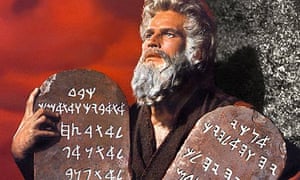 Moses with some early tablets … a 1989 hardware edition of the Bible was one of the precursors of today's ebooks
What was the first ebook? Debate rages … When Peter James published his thriller Host on two floppy disks, in 1993, it was billed as the "world's first electronic novel", and attacked as a harbinger of the apocalypse which would destroy literature as we knew it. Now it has been accepted into the Science Museum's collection as one of the earliest examples of the form, as the spotlight of academia begins to shine on the history of digital publishing.
see
https://www.theguardian.com/books/2014/mar/12/ebooks-begin-medium-reading-peter-james?CMP=share_btn_fb
from
http://www.craigswritingjourney.wordpress.com
and
https://www.facebook.com/journowriter
from  a Google search  (instead of my "non-existent filing system", thanks for rescuing me from chaos BIG G)
see
https://www.google.co.nz/search?rlz=1C1CHBD_enNZ698NZ698&ei=sjsgWuyaIoH_8gWV-ILYAQ&q=mail+and+guardian+e-books+1994+&oq=mail+and+guardian+e-books+1994+&gs_l=psy-ab.3…26805.32300.0.33459.3.3.0.0.0.0.331.961.3-3.3.0….0…1c.1.64.psy-ab..0.0.0….0.CMk1pIlG8To
and http://www.creativekiwis.wordpress.com